Let's enjoy our special rate with breakfast included and discover our BREAKFAST BUFFET !!
A delicious breakfast served from 7:00 am to 11:00 am in the room or in our lovely breakfast room.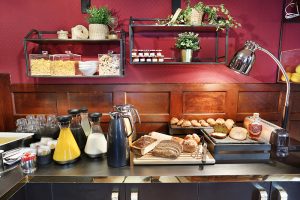 Breakfast includes: hot drink, pressed juice (orange or lemon), apple juice with activated carbon, baguette, special bread and pastries, scrambled eggs, sausages or bacon, crepes, fresh fruits, cheese, ham, cereals, dried fruits, yoghurt, and many surprises !
Offer Not Cancellable – Non Refundable, subject to conditions. Only available on our official website.