It's time to organize your next trip to Paris and you are legitimately wondering what is the best website to make a hotel reservation in Paris Center . At the Hotel de Seine, we explain how to make a reservation and also what are the advantages of booking directly with the hotel. And of course, we present to you our charming hotel in the heart of Saint-Germain-des-Prés. 😀
How to book a hotel in Paris ?
How to find a hotel in Paris ?
Like most travelers, you are looking for a location first. Do you have a professional meeting? Are you coming to visit a friend or family? Again, is this a simple visit of the city? The reasons for your trip will take you directly to the most relevant metro stations.
If your search is simply for the center of Paris, the very center of the city, the first arrondissements will certainly win your votes. The 6th arrondissement of Paris, Saint-Germain-des-Prés in particular, is an excellent choice for visiting Paris, and enjoying the pleasures of the city by day and night. Thus, specify the desired location in your request and let yourself be guided by the map on Google or a large reservation websites.
How to book a hotel in Paris ?
Today, a wide choice of websites and price comparators can help you choose your hotel. Now that you know which arrondissement you want to stay in, you can take a look at hotels and their services. Big booking sites like booking.com or expedia.com offer a wide range of accommodation that you can categorize by star, price or location. Take the opportunity to establish a short list of your favorite hotels. Finally, in order to benefit from the best available rate, visit the hotel website. And if you still have doubts about the hotelier's offer, consider looking at the price comparison on their google page.
Advantages of direct bookings
Why do we recommend that you book directly with the hotel? Because above all, the hotelier is the one who knows his establishment best and who is best able to offer you the room that suits you, as well as the rates and conditions best suited to your needs. There's nothing like a conversation to express your preferences and get your questions answered. In addition, by avoiding intermediaries, the hotelier promises you the lowest available rate. Who knows, you might get also an exclusive offer like breakfast included?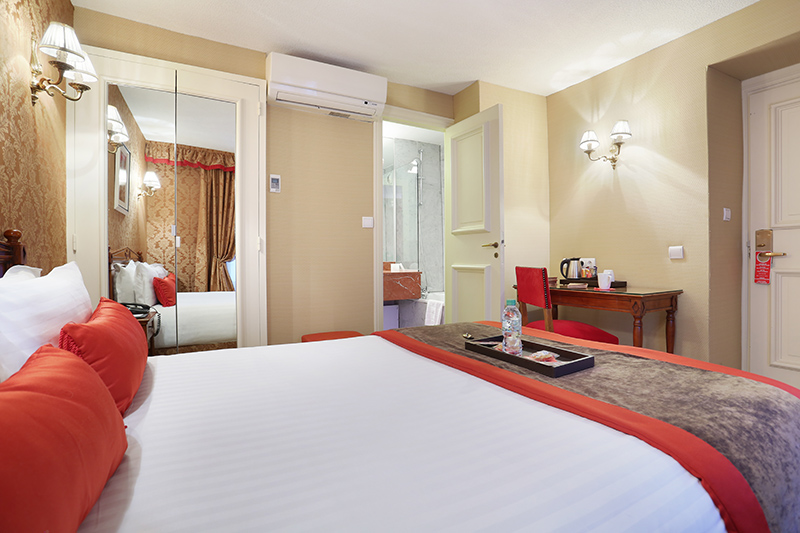 What is the best website to make a hotel reservation in Paris Center ? The Hotel de Seine's website !
Hotel de Seine, a 3 star hotel in the center of Paris
In the heart of Saint-Germain-des-Prés, in the calm and typical rue de Seine, the Hotel de Seine welcomes you with its discreet and professional staff. Its thirty rooms with very Parisian charm offer comfort and elegance to business travelers and tourists. Courtyard or street view, all the rooms are equipped with:
Free WIFI
Individual air conditioning
Tea and coffee facilities
Marble bathroom with bathrobes and Clarins amenities
High quality bedding
Flat screen tv, …
A sweet and savory buffet breakfast is served daily between 7:00 am and 11:00 am in the breakfast room, but it can also be served into your room. A special rate is dedicated to children under 12 years old.
Why making a direct booking at the Hotel de Seine ?
Like many hotels, the Hotel de Seine offers significant advantages for direct reservations:
Best rate available
Best conditions available such as the free cancellation until 6:00 pm on the D-Day
Exclusive offers such as flash sales or the business rate
How to make a direct booking at the Hotel de Seine ?
You can contact us every day and we will answer you with pleasure and smile 😀
Let's click here now you know what is the best website to make a hotel reservation in Paris Center 😀