The eternal question of choice! Even on vacation, we ask ourselves questions. And accommodation is at the heart of your questions if you have already decided on the destination. Paris, in this case. So, hotel or airbnb Paris: how to choose? You must first define your priorities, your needs and your desires. From our side, as hoteliers, we will give you keys and information on each type of accommodation. After all, helping you organize your trip and accompanying you is a bit like our job. 😉
Hotel or Airbnb: what are the differences?
It is quite normal today to ask the question of the differences between a hotel and airbnb. Maybe you have a vague idea of what one and the other offer or you have your habits. You always take a hotel room for short stays or on the contrary a vacation rental for your days off. Whether for a short rental or a family trip, we will try to enlighten you on the question Airbnb Vs Hotel…
Welcoming
This is a fundamental point that we are addressing here, welcoming. The hotelier is committed to welcoming and pampering his guests. Thus, a reception, most of the time, open day and night, welcomes you and gives you all the explanations necessary for your stay. A question ? Just ask the person in front of you.
At Airbnb, you don't have the certainty of having a real person in front of you to welcome you. Most of the time, a key box and possibly someone on the phone is enough.
Professionalism and customer relations
As we said above, at the hotel, a receptionist (or a reception team) welcomes you with a smile and accompanies you throughout your stay, before and even after. To create unforgettable memories with you. A technical problem? A member of the team intervenes immediately. And if necessary, a change of room is possible.
In an airbnb, since your apartment is located in an apartment building, you will have to call the owner and wait for someone to come to solve your problem. Finally, there will be no possibility of changing accommodation if it is not suitable.
The neighborhood
In a hotel, your next-door neighbors are hotel guests. They may therefore speak the same language as you or not, and the common areas are those of the hotel. It is only by passing the door of the building that you find yourself in the city.
In an airbnb rental, you live in a typical building in the city. So your neighbors are locals. You live the Parisian experience to the fullest by sharing the daily life of Parisians.

Services
In a hotel you will benefit from the following services. Of course they are included in the room rate.
24-hour reception
Daily cleaning service in the room and common areas
Linen provided and cleaned by the hotel
Breakfast in the dining room or in your room
French and foreign television channels
Booking a taxi, restaurant or even a theater play
Concierge service with tourist recommendations
At Airbnb, you can enjoy the following services:
Whole apartment or even a whole house with kitchen
Linen services and cleaning fees are extra
Parking and reception depending on the accommodation
Stay in Paris : what to choose between a hotel or airbnb ?
For a stay by the sea or in the mountains, an entire accommodation with an exterior can be very pleasant. Conversely, for a stay in Paris, is it better to choose a hotel or an airbnb?
Location
First of all, it is important to know that you will find almost as many Airbnb accommodations as hotels in the French capital and in each arrondissement. Indeed, in recent years, the airbnb movement has gained ground in Paris and the choice offered to you is as interesting in hotels as in airbnb.
Rates
In the same sense as the location, you will be surprised to learn that the prices charged by airbnb in Paris easily reach, or even exceed the prices of hoteliers. The fact that it is generally a whole accommodation with equipped kitchen increases the bill. And the upscale neighborhoods of the capital also benefit from it.
In a classic hotel, to the price of the room are added the tourist taxes and the extras consumed on the spot. On airbnb, you will have service charges, tourist tax and possibly additional charges for services chosen in addition.
Parisian life
As hoteliers, and above all as Parisians, we are going to talk to you honestly. You will easily find airbnb accommodation in the most popular areas of Paris. The Marais, the Champs Elysées, Saint-Germain-des-Prés., the Latin Quarter, etc. But you should know that the more airbnb accommodations there are in these areas, the more they lose inhabitants. There is thus a desertification of the urban population in many districts of the French capital and Parisian life disappears with it. Closure of small businesses, especially food, schools, local shops. For the benefit of brand names that attract tourists. More and more rare are the streets with a cheese maker, a butcher and a bakery. By opting for a hotel room, choose not to endorse.
What is the best plan for a family trip: hotel or airbnb?
Family trip
For your family holidays, you will certainly need a fairly large accommodation, depending on the size of your family of course and the ages of the children. Then there are services. If you do not want to travel with your whole house, it is essential to inquire about the equipment provided in the accommodation.
Equipments
Whether at the hotel or in airbnb, you will direct your search according to your needs as parents, particularly if you have young children. But staying in a family hotel is possible!
In hotel rooms, you will certainly have access to a cot, enough to heat baby's meal, and possibly a high chair and a baby bath. In an entire dwelling, two possibilities, where there is nothing at all for the children, or on the contrary, the owners will have anticipated the demand. It is best to inquire at the time of booking. Also remember to check online reviews. Travel experiences, travel style, always provide very useful information on the customer experience, customer reception or rental management.
The big difference is that in Paris, few hotels can accommodate a family of 5 people in the same room. The size of the surfaces often implies a lower reception capacity. So if you are traveling with 3 or more children and you are not planning to book two rooms in a hotel, the airbnb will be more relevant for you.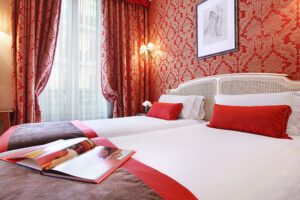 Hotel de Seine, your hotel in Paris 6
In the very center of Paris
Far from the hotel chains or a hotel complex, the Hotel de Seine is a charming 3-star hotel on a human scale located in the very center of Paris, in the superb district of Saint-Germain-des-Prés. Its 30 rooms welcome couples, friends, businessmen or families all year round in a quiet street of the 6th arrondissement of Paris. You can visit a large part of the city on foot (only a few minutes take you to the Louvre Museum, Notre-Dame Cathedral, or even the Sainte-Chapelle) or use public transport (lines 4 and 10 from metro 5 minutes walk). By metro or bus, you will quickly reach the Château de Versailles, Montmartre or the Eiffel Tower and the Champs Elysées.
Services
The Hotel de Seine offers the following services :
A reception open 24 hours a day. Our staff is fluent in French, English and Spanish.
A luggage room to leave your suitcases on arrival or departure
A breakfast served in the dining room or in your room between 7:00 a.m. and 11:00 a.m. every day
Daily cleaning in the rooms and cleaning service for the common areas
A concierge service provided by our lovely receptionists
Equipments for families
Families can choose our Deluxe rooms for 3 people or two rooms side by side. All the rooms are equipped with:
Free WIFI
Individual air conditioning
Courtesy tray with tea and coffee
Private marble bathroom with bathtub and Clarins welcome products
Flat screen TV with foreign channels
Bathrobes
For families, the Hotel de Seine has all the equipment for babies and young children:
Baby cot and adapted linen (on request)
Bottle warmer
Changing mat
High chair
Half-price breakfast for children under 12 years old
Bathtub in every rooms
Guest relationship
At the Hotel de Seine, we anticipate your stay. As soon as you make your reservation, you are expected. Seven days before your arrival, we send you a pre-stay email to help you organize your trip and facilitate your arrival. Then, after your first night with us, we send you an email to find out if everything is going well. Finally, after your departure, we suggest that you fill out a satisfaction questionnaire in order to collect your opinion. This allows us to constantly question ourselves and make relevant improvements.
Rates and offers
In addition to quality and up-to-date photos, the Hotel de Seine displays the best rates and the best cancellation policy directly on its website:
Best flexible rate D-Day 2 p.m.: this allows you to cancel free of charge until 2 p.m. on the day of arrival. It also exists with breakfast included.
Semi-flexible D-7 rate and the long-stay rate: these two rates, cheaper than the first one, and also available with breakfast included, allow you to cancel free of charge up to 7 days before arrival.
Visit our website to make your choice or contact us directly :
By phone : + 33 1 46 34 22 80
By email : hotel-de-seine@orange.fr
On social media : Facebook & Instagram
See you soon in Saint-Germain-des-Prés as you know now what to choose between a hotel or airbnb 😉