Now it is! Time has come to spend one night at Hotel de Seine, in the deep heart of Saint-Germain-des-Prés! Birthday gift offered by my sweetheart, a romantic stay in the city of love!
At arrival time, the stone facade and majestic wooden doors set the scene. We are in one of the oldest areas of Paris. And Hotel de Seine has sworn fidelity to History. Reception desk, with the sparkling marble, is held by a particularly smiling lady. Comments online were true, here welcoming is sincere and warm.
Push the door of the room. Wall fabrics, woodwork, beautiful height under ceiling, and a bottle of Champagne nicely placed on the bed at the request of my sweetheart. A glance through the window, passers-by walking in the Rue de Seine. Let's slightly change the temperature of air conditioning, and everything is perfect! Go to the bathroom to get ready for the Parisian night! A good bath and the Algotherm amenities make a great feminine instant. There's even a face mask!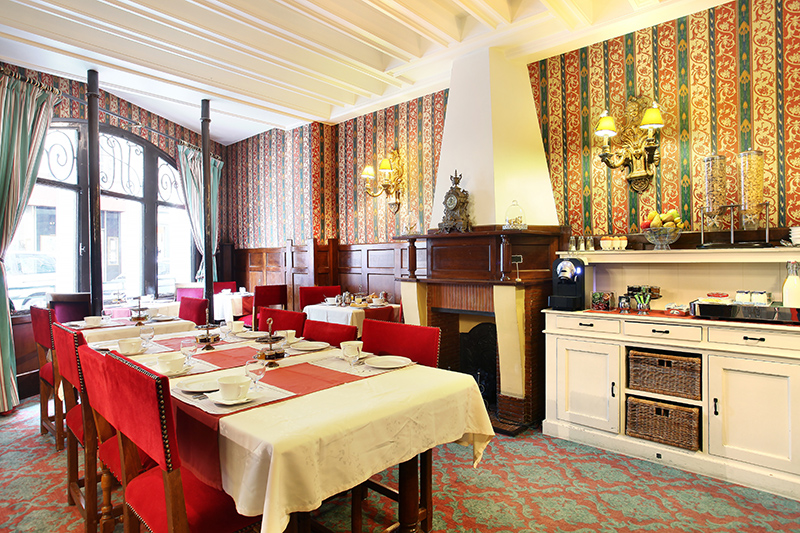 Let's go ask some advice at the reception for dinner. The staff is very knowledgeable about the neighborhood and good restaurants. At the door of Hotel de Seine, Paris awaits us. Life vibrates everywhere in Saint-Germain-des-Prés, and so we do.
Back from a beautiful romantic terrace, we go back to our room, close the curtains and sit with an infusion. The mattress is an amazing promise …
In the early morning, double glazed window and blackout curtains delay the alarm clock. But the idea of enjoying a breakfast is enough motivation. The breakfast room is a postcard from Paris. Fireplace, exposed beams, and large windows over the rue de Seine. Let's take a seat, coffee, crispy croissant, fresh fruit … We are ready to face the day!
At departure time, the charming gentleman at reception offers us to keep our luggage for the day. What a good idea! He also gives us a VIP code that we will be pleased to use for our next night at Hotel de Seine! 🙂